eCommerce businesses are evolving and growing day by day. To survive in this competitive environment and win the first spot, you need to have the best eCommerce platform.
The number of Software available in the market to support your website is endless. But to enlighten your knowledge, Magento is one of the leading and best eCommerce platforms to build an eCommerce application for your business. There are millions of popular eCommerce stores that are running on this framework. Ohh! That's a huge number, right? Well, yea!
Magento is immensely popular due to its rich and powerful features. It hardly matters whether you own a small business or large enterprise, eventually, both M-commerce and E-commerce have brought new wings to the business. And that's why many companies are leveraging the benefits of Magento Development Services.
Moreover, with the release of Magento 2, brushing up on some of its unknown features might be a great idea.
Well, no one can deny that having many features, there are still some things that have remained untouched by developers. Thus, in this blog, as a prominent Magento Development Company, we are going to discuss those features that you might not be aware of on the Magento platform. Also, knowing these will help you get a head-start on your project.
Let's hear it out!
Here are 11 Things You Should Definitely Know About Magento eCommerce Platform
I am very keen to share things, ain't you? Let's start with the number of retailers who have been using Magento since its inception is higher in comparison to any other platform.
As per a recent survey, more than 350,000 retailers are using the Magento platform for their eCommerce websites. Therefore, Magento has shaken the world.
1. Keeps Updating With New Features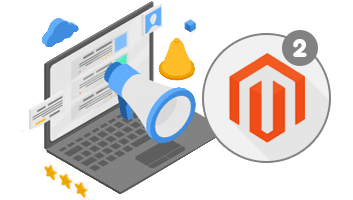 The new notification of Magento – Product Alert Notification, helps to maintain communication with the clients. With this feature, it sends a notification to clients informing them about the latest available feature as soon as it comes out.
With this alert, a customer can:
Aware of the latest products that are of interest to them
Find out the things they are looking for on the website of Magento.
2. Mobile-Friendly Website For Your eCommerce
As per the Google algorithm, a mobile-friendly website will also influence its ranking. Thus, it's imperative that your eCommerce website loads easily and quickly on mobile devices. Not only Google will love it, but consumers, too, will not hesitate to use your website frequently.
With the Magento framework and its various plugins, you can craft a customized design for your eCommerce website. This will surely help you to make a mobile-friendly website.
3. SEO Edge
'Magento SEO' has overcome issues of search engine optimization by facilitating better optimization solutions for your eCommerce website. Magento 2 provides various SEO-friendly nuggets and efficient management of page traffic, plagiarised content, landing pages, indexing, and more for a website.
Magento 2 gives you better performance than other platforms when it comes to achieving a higher SEO score. Moreover, having its own modules and extensions makes a website rank higher on Google.
4. Makes PCI Compliance Easy
In order to make sure the payment information and personal customer details remain highly secured and protected every online payment retailer has to adhere to the guidelines provided by PCI (Payment Card Industry- Data Security Standard).
PCI helps to protect the personal data and payment information of the customer. But as compared to Magento, many other eCommerce development platforms make this process quite tedious, hectic, and hard.
The inbuilt capabilities of Magento make PCI compliance easier by separating the Magento Secure Payment Bridge application from the eCommerce platform. The subscription of Magento Enterprise Edition includes the Magento Secure Payment Bridge and PAS-DSS certified feature. This allows merchants to not to go through the complicated procedure of PCI Compliance and make the best use of the Magento capabilities.
This makes it easy to update the platform anytime without having to worry about disturbing the payment options.
5. User-Generated Content
Owning an eCommerce website, you always have to steal the show by delivering a user-centric website and performance. It's not advisable to choose a platform that doesn't allow you to update the content on your website easily. And definitely, an outdated website will affect your SEO ranking, and traffic and decrease the revenue.
With Magento 2, you can overcome this problem as it's easy to create user-generated content like reviews, testimonials, etc. You can easily customize and modify any feature you like. Since it's an open-source platform, you can get plenty of options for the public, and its inbuilt library to update to any modern language.
6. Order Management
Magento 2 platform allows Admin to manage their order fulfillment side of the business with ease. The website integrates with extensions like ship station which helps in smoothing the order fulfillment for the owner. It's one of the best benefits of using Magento for your eCommerce store.
An admin can easily create, view, edit, create invoices, print packing slips, and can do other order-related tasks easily.
7. Powerful Marketing Tools
Magento comes up with powerful inbuilt marketing tools that can be used to promote your eCommerce business. With the Magento framework, you can create flexible coupons, private sales, catalog promotional pricing, multi-tier pricing, bundled products, and landing page tool, therefore, you don't need to purchase third-party tools.
8. Easily Website Updation
Magento eCommerce platform allows you to update websites and content easily. Obviously, an outdated website will affect search engine rankings, decrement in traffic, fewer sales and conversions. Hence, you will not be able to gain proper profit from your website. Updating the inventory, prices, and other things are imperative for the smooth running of the eCommerce website. With the Magento platform, the website owner can perform these tasks easily and quickly.
9. Analytics Modules For Your eCommerce Website

To rank your website in the top pages of search engine results, it needs the right keywords to be injected in the right position. With the Magento framework, you can easily integrate Google Analytics. With this, you can easily find proper keywords and optimize your SEO. Also, Magento allows you to add much more analytic modules to analyze and use the right keywords.
10. Customized Themes
Since many organizations are leveraging the Magento platform for their eCommerce website, you need to make sure that it doesn't look familiar to the existing websites on the internet.
With Magento, you can easily customize your own theme with their availability. It gives the user the creative freedom to develop amazing and extraordinary solutions they want for their website.
11. Developer Friendly
Magento platform is built by developers for developers. It has its learning curve but once a developer starts learning and using it, they become a pro in it to build a complete eCommerce store. They find it more easy and comfortable to work with as Magento provides various functionalities and features. Hence, it becomes very simple to add pages on the website and interlink them with main or sub-navigation.
Magento 2 – The Perfect eCommerce Solution
Magento 2 development services offer a user-friendly interface, drag and drop editing with the page builder, helping developers to create experiences that conform coherently on mobile, social, or in-store without much interference of IT support. Magento development services are capable enough of delivering whatever an eCommerce website needs.
Real-time customer support
Deployment of B2B and B2C hybrid models
Multiple sites and brand support
Create and manage an endless aisle of inventory
Conclusion
There are many eCommerce platforms available in the marketplace, each one trying to prove the best among all. Many of them look simple to use and more feasible for eCommerce solutions, but none of them provides a handy and out-of-the-box feature required to build and run a successful eCommerce store.
Magento platform is the perfect and best solution for your eCommerce website development. No matter how big and large your website and complex features are, Magento eCommerce development services will be the perfect and wise decision.